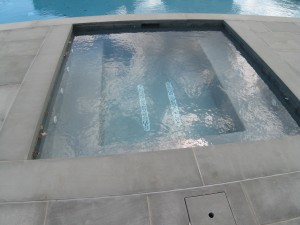 Custom Hot Tubs That Complement Your Lifestyle
At Kazdin, our custom hot tubs are designed to give you the ultimate hot tub experience. With refined beauty and the promise of pure relaxation, each spa and/or hot tub features advanced hydrotherapy and powerful performance. Whether you want all the special features imaginable or prefer a more simplistic experience, with Kazdin, you're sure to find the perfect outdoor hot tub to fit your individual lifestyle.
At Kazdin, our hot tubs provide everything you need in one powerful, gorgeous package. No matter which outdoor hot tub you choose, it will bring you years of enjoyment and enhance your physical and mental well-being. Whether you're an athlete with sore muscles or you just want to relax, sleep better or escape from the daily grind, you owe yourself the ultimate spa and/or hot tub experience by Kazdin.
Our spas are available in many shapes and sizes depending on your taste and lifestyle. We offer:
Gunite Spas
Our gunite custom hot tubs offer freedom of design and customization with ceramic tile, 6″ thick walls and all the features of our gunite pool.
Portable Spas & Hot Tubs
Our mobile units are exceedingly economical; all you need is an outlet and an extension cord.
Both our permanent and portable mobile units are available in many models and colors, along with being fully insulated for energy-efficient use.
The outdoor hot tub season generally runs from mid-March through mid-November, but can be easily extended with some planning. If you're looking for custom hot tubs or a spa and/or hot tub, now is the time to take action.
For more information call us today at (631) 283-4884 or drop us a line.