June 2022
To George,
I have to say you and your company must be the best out there.
We had a minor issue today with the water and your response was immediate, I mean within minutes!
Thank you for jumping on it and addressing the issue.
I know you guys must be swamped especially this time of year.
All the best!
---
June 2022
Dear George and Matt-
I just wanted to personally thank you for your excellent service. We are
thrilled with our pool. Love the Lake Como liner!
We also appreciate the nice/professional team we have met so far as well.
My Best!
---
December 2021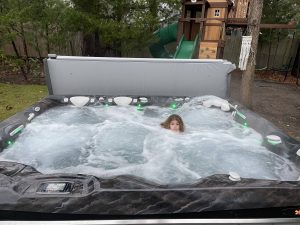 The spa is AWESOME!!!! Such an upgrade over the old one. And the massage lounge area is pretty amazing. It's been great to use and it is so big !! Family has loved it. Thanks for taking care of the extra masonry work for us, I really appreciate it. You guys (as always) have done such amazing work. It's been great working with you and all of the folks on your team have been awesome. The pool work was excellent and the hot tub exceeded expectations. Hope you all can have a great and restful break.
Thanks again, Mike
---
December 2021
Thank you SOOOOOOOOOO much for taking care of us at Halsey Avenue. We are closing on Thursday, December 16 2021. The new owner has your contact information and if she hasn't already reached out to you, I'm sure she will. Again, thank you for your service, kindness and generosity throughout the years.
---
July 2021
Dear Matt and all of your team,
Thank you for an outstanding service. As always you have been responsive and solved the problem.
Kazdin is the best.
Happy 4th
C.L.
---
March 2021
I loved hearing about everyone in the company who does an outstanding job of taking care of clients. You are all extremely professional and kind.
Thank you.
P.D.
---
Nov 2020
Matt, Tina:
Thank you for your kind words and providing me this letter so promptly. I
will be sure to recommend your company to the new owners as you have been a great help to me over the years.
Kind regards,
John
---
Sept 2020
Subject: A new look! Labor Day weekend and a clean pool to enjoy!
Hi everyone at Kazdin!
Just thought I would share how beautiful my pool pavers look now that they are weed free, have sand in between instead of dirt, debris, moss, and tons of creepy crawlers that were always falling into the pool. (And scrubbed clean by Mildew Busters)
And you really made us extremely happy today when Georgie showed up to clean all the polimer sand out of the bottom of the pool.
He is such a great guy, we met him in Feb or March of 2019 when we were in contract on buying the house and coming to measure things- he was doing the winter check and he was so pleasant and nice.
We really love the pool now! All I need is a vacuum that runs around the bottom and does the work and collects the debris.
Next year for sure! Maybe Matt can get me a quote again…
Thanks again, it is such a team effort and we appreciate all that you do everyday!
Tell Terry we are very happy!
Talk soon,
L & R W
---
Aug 2020
Dear George:
It has been a pleasure working with you. You and your team are very responsive, have great communication and scheduling skills and are pleasant to work with. As a Contractor, I will say you and your team are true professionals and we look forward to working with you again in the near future.
Thank you!
Sincerely,
Annmarie LaFace
Joseph R. LaFace Construction, Inc.
---
July 2020
THANK YOU to the Kazdin Team – I am impressed with the level of professionalism, care, and attention to detail.
The customer service is also exceptional.
Best, E
---
July 2020
We've been Kazdin customers for many years now, for openings/closings and weekly maintenance, and have always been impressed by the company's reliability, professionalism, and attention to detail. Anytime we call with an issue or concern, it is addressed by the end of the day, usually within a couple of hours. We recently had the gunite resurfaced – they were involved every step of the way, from tiling (thank you Terry and crew – great guys!!), to marble dusting, and checked it twice a day for a week while it cured to make sure all was to their satisfaction. Kazdin is a family owned company whose work ethic and excellent customer service is second to none. ~~~ K & M Z
---
June 2020
Thank you George, Matt and the whole Kazdin Office & Installation Team for doing a wonderful job!
Even though the Covid-19 was thrown into the mix and created many unforeseen challenges you guys did a OUTSTANDING JOB THROUGH & THROUGH!
---
May 2020
Not only do you guys have great pool service, but your customer service is beyond anything I could ever ask for. You go above and beyond to accommodate, and you guys are my first reference for friends and family. You called two weeks ago and I last minute switched the date on you guys and now here you are calling again just to follow up . The customer service is unmatched by any other pool service company even during these crazy times.
---
November 2019
Dear Julie & Team Kazdin,
Thank you for another fantastic season with our pool & spa.
We couldn't be happier with your service and attention to detail.
Having used many other pool companies before, Kazdin is hands down the best in the biz.
Thank you so very much and enjoy the offseason.
B&K- Manorville
---
August 2019
Thanks again, Matt, and thanks for a great, trouble free summer! Crystal clear all season! We were the envy of the neighbors!
NH
---
July 2019
All around excellent, efficient and professional service. Special thanks for the requested asap repair of the spa as was needed for my recuperating wife. It was greatly appreciated.
In a world filled with amateurs, it is very refreshing to do business with real professionals.
Kindest Regards,
T.B.
---
July 2019
Matt: Thanks so much for sending Julio and Rickey yesterday to get my Pool ready for swimming by the Fourth of July. They did an excellent job and we are now ready to enjoy….Hope you have a nice holiday! M.B.
---
May 2019
Hi George – The pool looks great and we all enjoyed being outside around it
this past weekend. Thank you for all the good work and for getting it done
in time. Best, Genie
---
October 2018
Through the years I have always found Kazdin Pools to be responsive, highly competent and fair.
Thank you
Karen Amorelli
---
August 2018
Hi George, wanted to let you we are enjoying the pool. That new handrail seems to be doing the trick.
– KM
---
July 2018
Teddy, Terry and your crew overall have done a great job! As a son of a contractor, I appreciate the skill and ethics of your crew. Their unwillingness to rush, that which should not be rushed is to be commended.
– FC
---
August 2017
Dear Brian,
Thank you for the Update. And very importantly thank you very much for your efficient and thorough work on our pool system. You investigated this step by step and got things working as they should. It was very professional and stress reducing for us.
Yours Truly,
PL
---
July 2017
Hi Brian
I can't thank you enough for getting your service men out to my pool today to clean it and more importantly to get the right chemicals in to clear up chlorine lock and other contaminants that would have made the pool unswimmable for the long July 4th weekend. Also, Maryann was very helpful in having my basic chemical readings diagnosed this morning to determine that I had chlorine lock, after which she contacted you to respond to my request for service today. I can't tell you how thrilled I was to see the red Kazdin truck in my driveway! The pool looks great now compared to this morning.
Best regards,
DM
---
June 2017
Brian – just wanted to say the pool looks great. Is the water taking the
chlorine better so far and are the chemicals more balanced? It seems to
be – based on swimming so far the water seems a lot less irritating.
Thanks for your help with this.
Andrew
---
November 2016
Hi Julie,
We have sold our house.
We have lived in East Hampton for over 30 years and considered it a pure paradise. My wife and I can only hope that whatever our new adventure will be would be a joy if only it measured up to 50% of our time "out east".
I also gave a recommendation that you have been our service provider for over 25 years and are highly regarded, professional and conscientious and have always taken great care to make sure our pool is performing at its peak for a most enjoyable summer experience.
I would like to take this opportunity to personally thank you and the Kazdin family for all the help and attention you gave to our needs. You were always spot on with any recommendation and made sure that any work was performed in a professional and timely manner. I would recommend you to anyone and hope your company continues to provide the excellent service and care that you have demonstrated to us.
Thank you for everything and the years of great service and relationship.
BM
---
June 2016
Wow, you all are like Christmas elves. Imagine my surprise when I came home from school today to the job done. Thank you. My family arrives tomorrow and this is such a treat. They don't get to visit a lot so I really appreciate the quick turn-around on this project. I know I did not give you much notice on this one Thank you very much.
CS
---
July 2015
Dear George and the Kazdin team,
Thanks to your professionalism, open communication every step of the way and pool expertise we are enjoying a relaxing holiday. You were right – the Mineral Spring application is wonderful. It has been a pleasure working with you and your team. Have a terrific holiday!
All the Best,
Ms. Stewart
---
November 2014
I, personally, extend a separate and very effusive thanks again to all of you for the way you have helped me since my husband passed away. I know it is a cliché but "I could not have done it without you." I truly believe that your service to me went way beyond just good customer service. I cannot say enough about your responsiveness, guidance, and support. Thank you all.
Wishing you all continued prosperity, and happy lives.
My best, E. Robinson
---
October 2014
Re: Letter of Recommendation for Kazdin Pools & Spas
Dear Sir or Madam:
I am pleased to provide this letter of recommendation on behalf of Kazdin Pools & Spas, which installed a new 20 x 40 gunite in ground pool with saline system, pool heater, and
synthetic rear deck (attached to the house and separate from the new pool) at my Water Mill farmhouse in the summer of 2014.
My farmhouse was built in approximately 1986, When I purchased the house in
1997 , the existing vinyl pool was perpendicular to the house and surrounded by a wom out
wooden deck which required constant painting and maintenance, The vinyl pool and deck were too close to the house and looked very dated.
I envisioned a beautiful backyard with an estate-like feeling, I hired Kazdin
Pools & Spas to demolish the old pool and deck and to install the new in ground gunite pool,further away from and parallel to the house, and new larger synthetic deck attached to the house.
Kazdin Pools worked with me to select the best location for my new in ground
pool, and helped me design the new larger deck, Throughout the demolition and construction process, they emailed pictures to show me the progress of the work. When the job was finished I was very happy.
The finished gunite pool and deck are beautiful and I look forward to enjoying my backyard for many years. Accordingly, I am pleased to offer this recommendation of their work.
CAROL R. FINOCCHIO
---
June 9, 2014
Thank you so very much for the repair and for the photos.
We really appreciate your professionalism.
It is a pleasure to work with you.
Thanks again,
Marylu Simon and Judy Zimmerman
---
May 27, 2014
Dear George,
Just a quick email to let you know how much I love the new pool liner!!!
The color is exactly what I wanted and my pool looks so beautiful!! Thank
you so very much!!
Sincerely,
Ingrid Gallo
---
July 25, 2013
We are loving the pool George….thanks from the whole family
Harvey Schneier
---
July 19, 2013
Thanks. You all have been so responsive. It is greatly appreciated
Laurie Ravetz
---
June 23, 2013
Kazdin Pools built the pool in our East Hampton house last summer. The construction project, our first involving a pool, went well, although like every customer, we would have liked it to have progressed more rapidly; much of the delay was for events not under the control of Kazdin Pools (e.g., surveys, Building Permit). This year, we had Kazdin Pools build the shed required by town ordinance to contain the pump, and expanded by us to provide storage space as well. This was accomplished quickly and efficiently. During shed construction a problem with the pool, which I would never have noticed, was pointed out by George Kazdin; it required a great amount of work to correct, at considerable cost to the company but at no cost to us. Among the real benefits of working with Kazdin Pools are the very clear communications about the building process provided during the construction phase (with frequent photos), and the very clear delineation of the customer's financial responsibilities provided by its business office.
Harvey Schneier
---
June 15, 2013
Julie,
Anthony was here. He's a really good worker. Showed me the motor operation and cleaning.
Thanks,
Fred Pine
---
June 10, 2013
Hi Julie
Just wanted you to know how happy we are with the new pump. Our pool looks crystal clear
And it is so quiet!!!!
Thanks as always for the great work and your help during the down time
Thanks,
Lynn C. Reed
---
May 23, 2013
George,
Thank you very much for the wonderful spa. We have used it every night so far and I have to tell you, when I get home from a 16 hr day at work, that thing is just what I have needed. Thanks again. Have a great weekend.
All the best,
Brian Curtin – Club Manager Great Rock Golf Club/Blackwells Restaurant
---
May 18, 2013
Dear Mr. George Kazdin,
When Glen Protus appeared several weeks ago to begin opening our pool, we were thrilled and relieved at the same time. Glenn is the primary reason that we remain with Kazdin pools for our service. He is not only completely professional and thorough in his work, but he is genuinely a kind person.
Glenn often gives us tips on how to better maintain our pool between service calls. When he comes to service our pool, he is extremely respectful of our privacy, as any professional should be. Glenn is aware of all of the intricacies of the operation of our pool, so we can enjoy the swimming season knowing that our pool will be in great shape for both swimming and entertaining.
If we ever lost Glenn as our pool technician, we would be be very upset and we would dread the whole procedure of having to teach a new pool technician about all of the idiosyncrasies of our pool, our yard, and even of the behavior of our dachshund, Domino, who also loves Glenn.
Glenn is a very positive representative of Kazdin Pools. Very few service companies on the East End have an employee of such caliber. He is highly proficient and he is one of the major reasons why we continue to use your services. No one else who we hire to assist us in the maintenance of our yard even comes close to the level of Glenn's competence and professionalism. We look forward to him helping us with our pool maintenance every year.
You are truly fortunate to have Glenn Protus as a member of your staff.
Sincerely,
Mr Scott Dinstman and Dr Michael J Elinski
---
November 21, 2012
To whom it may concern:
I am pleased to write this letter of recommendation with regard to Kazdin Pools, Inc. Kazdin began servicing our pool in 2010. They immediately discovered and repaired a leak that two other pool companies had been unable to discover, much less resolve. In the spring of 2011, Kazdin completed additional repairs and performed marble dust services, which made an extraordinary improvement in our pool — it was as if we had a brand new pool. Most recently, last year, Kazdin Pools installed a spa system. Their work performance has been consistently exemplary. We built our pool 13 years ago. During that time, we had engaged three prior pool service companies, all of which had been recommended, and yet all of which were very disappointing. Kazdin's service has been superior in terms of both performance as well as service. I think George Kazdin sets the tone for his company. The administrative staff in the office and the people who perform the services in the field all seem dedicated to providing courteous and excellent service. I truly have no complaints.
I think you can be highly confident that Kazdin Pools will provide you with exceptional service.
Very truly yours,
Tricia Kallett
---
October 16, 2012
Re: Pool Construction
George,
Thank you for your efforts in building my pool in Shinnecock Hills, Southampton. I appreciate your thoughtful input into the design and location of the pool. The difficult circumstances we were given by the Town of Southampton made the project more challenging than perhaps your average pool construction. Dealing with the wetlands issues clearly compounded those problems. Your availability during the entire process was excellent. We are pleased with the end result. The pool is well constructed and pleasing to the eye. It clearly adds to the value of our property.
Thank you.
Sincerely,
Quinten C. Stevens
---
October 12, 2012
I WISH TO COMMEND THE PERFORMANCE OF YOUR EMPLOYEE, DAN. HE DID EXCELLENT WORK WEEKLY AT MY POOL… TRUST HE WILL CONTINUE NEXT
SUMMER.
SINCERELY, DR. BRODY
---
September, 3, 2012
Thank you for another summer of excellent pool service, most particularly with Marek. ~~
Maria Zacharoff
---
August 16, 2012
Dan always does a superb job-
Thanks for always great satisfaction with your service
Regards Michael schwalb
---
August 11, 2012
We just want to let you know that we appreciate the great service that Dan gave us again this year. He was friendly and efficient knowledgeable and took good care of our pool.
Thank you
William and Mary Sanders
---
August 7, 2012
Thank you all so much for taking such good care of my pool.
Best regards,
Ken George
---
June 30, 2012
Dear George,
I would like to thank you for the successful completion of our pool. The project was completed in a professional manner and the quality of the construction is superb. Your knowledge and expertise allowed us to navigate a challenging land grade issue with ease.
Thank you again for personally walking us through the process from beginning to the end. I would definitely recommend Kazdin Pools to anyone researching a pool construction contractor.
Very truly yours,
Gregory N. Ferraris
---
June 1, 2012
Dear George:
A belated "Happy Anniversary" for your 40 years in business!
I write you not only as a businessman that shares a long time business history,
but also as a customer. Kazdin takes care of my Jacuzzi. Based on the
excellent customer service I receive, I am not surprised you have been in
business for so long.
I have had some "tough years" also, so I know firsthand what an
accomplishment you have achieved.
Congratulations again!
M. Timothy cunningham
---
May 26, 2012
Thank you so much for meeting the Memorial Day target…..my kids and grand
kids are having a ball.
Also….your technician Eric is a fine, competent individual….Thanks to
him as well….
The Dorfs
---
September 6, 2011
Hi Julie – Everything is ready to be closed down. Thanks for having the pool ready for swimming this past weekend. With the storm and the power outages, we didn't expect it to be so clean and swim-ready.
Really appreciate it –
and have a good day –
Barbara Gerrard
---
September 2, 2011
RE: Cleanup
Pursuant to the Hurricane of 8/27 the condition of our pool was frightening and I wondered if Labor Day weekend would be cancelled. But your agent Brian Boucher provided us with outstanding service as usual and to our amazement we now are able to enjoy the holiday weekend. That wonderful person deserves a raise and a pat on the back.
Regards,
Elaine Clifford
---
September 1, 2011
Hi Julie,
The service tech did a great job !!..no leaves and water is clean.I'm sure you were extra busy this week with clean up's and do appreciate that the weekly service wasn't interrupeted.
Please pass on to the service tech my thanks and to you as well.
Charlie Freile
---
July 18, 2011
George,
I just wanted to drop you a note thanking you for the great work you have done at my house over the years. We could not be happier with the most recent addition of the stone patio and spa. We are enjoying both immensely along with our pool you installed seven years ago. Thanks again for all your great work. I would be happy to be a reference for you and your company any time.
Very truly yours,
Douglas Renna
---
June 29, 2011
Dear George:
I am writing this letter to thank you and your staff for helping to solve a potentially very difficult problem with my pool. I was very pleased with the extraordinary efforts that both you and your staff demonstrated in solving this problem. I would like to give particular praise to Anthony who came last Saturday and really went out of his way trying to solve problems with my motor after the wall was fixed. It is a pleasure to deal with a company that has their clients' interests in the forefront of their efforts.
Thanking you again.
Best Regards. Sincerely,
Robert L. Cristofaro, M.D.
---
June 09, 2010
Julie:
Today's incident resulting in prompt complete repair of my pool malfunction reinforces the proper judgement in continuing to rely on Kazdin Pools for all my pool service. Competent, efficient service remains.
Thank you,
Dr. Jack Gruber
---
May 17, 2010
George:
I just wanted to tell you how happy I've been with your service. You guys are amazing!! having just come through a year and a half house and yard renovation, I've been dealing with so many contractors — architects, electricians, plumbers, security alarm companies, landscapers etc., etc., and I have to tell you it's always such a pleasure dealing with you and all the people at your company — everyone is always so responsive and nice (really generous of spirit).
If EVER you need to use me as a reference, please do so. If ever you'd like for someone to look at the pool/equipment, I'd be happy to help out.
Thank you. Thank you. Thank you.
Len Fogge
---
May 06, 2010
CUSTOMER SERVICE
There are a lot of companies in the Hamptons and indeed all over the world who talk a lot about customer service. There are few who deliver it. Kazdin Pools is one of the few who do deliver. From Kazdin you get a real person answering the phone, not a computer menu. From Kazdin you get friendly staff who actually listen to you. From Kazdin you get people who take pride in their work and it shows. I've been a very satisfied customer of Kazdin Pools for 17 years. Everything from major work to routine maintenance has always been done extremely well. You guys are really doing something right. It's called customer service. Thank you so much.
Jim
---
Hi George:
Thanks for stopping by today. I just wanted to drop you a note to let you know that your people are doing a great job taking care of my pool this summer. Each weekend it looks perfect, regardless of how we left it the previous weekend. Please thank them for taking such good care of us.
Best regards,
Ken George and family
---
June 29, 2007
Kazdin Pools, Inc.
Attn: George Kazdin
George & Team,
We just wanted to thank you for all the beautiful work Kazdin Pools did for us. We are thrilled with the bluestone patios, the outdoor fireplace, the built in grill, awesome hot tub and new liner and steps. The Pennsylvania bluestone walls and stonework are just gorgeous, and we couldn't have imagined at the start of the project how beautifully it all would have come out!!
We appreciate your eye for detail and partnership on this project. You were great about anticipating all the issues and Terry and team were fantastic partners, and all involved were professional and courteous.
We look forward to enjoying many years of outdoor fires, grilling, swimming and fun in our backyard!
Many thanks again,
---
June 3, 2005
To whom it may concern;
We are pleased to recommend Kazdin Pools without any reservation. From the very first conversation through the final completion of the job (and what a beautiful job it is!), all of the work was performed in a professional manner and at the highest level of quality.
George Kazdin personally worked with us in all stages, helping us to determine exactly where on the property the pool would be best located, and to envision and create our backyard oasis. Kazdin Pools transformed a very challenging hillside formation by means of a stone retaining wall and bluestone steps and patio that rival the beauty of the pool itself.
Throughout the process, George was accessible, responsive, and knowledgeable about what he and his staff were doing and could do to carry out the project. Further he secured and coordinated seamlessly the other contractors. We are totally satisfied, indeed thrilled, with the completed work, and we could not be more enthusiastic in recommending Kazdin Pools.
Laurie Woods
John Corwin
---
May 9, 1994
Dear George,
Just a note of Thanks to you and your crew for your help in opening my pool for the season. As you know we were shooting a video commercial to promote our Gas Grill and the producer suddenly decided that the pool you built for Sandy and I would make the perfect background. Unfortunately, I had to be out of town the week before the shoot and could not make sure the pool was going to be ready. But Kazdin Pools to the rescue, your people opened the pool on Thursday, came back Saturday for the finishing touches and voila a perfect setting for our video on Tuesday.
Please give the Thanks to your crew, as always a Job Well Done!
Very truly yours,
Nolan R. Hadix
Pulver Gas
---
June 27, 1989
Dear Mr. Kazdin:
We can't express loudly enough our total satisfaction with your company and its efficient, devoted employees. We have had the pleasure of dealing with Glen, Joan, Tom and Joe (and most recently, even your wife!) – their professionalism says a lot for your company. We find them to be knowledgeable, organized, and experienced in their work and the way in which they conduct themselves.
It has truly been a pleasure dealing with Kazdin Pools and we look forward to a continuing relationship for many years.
Sincerely,
Fran & Paul Silver