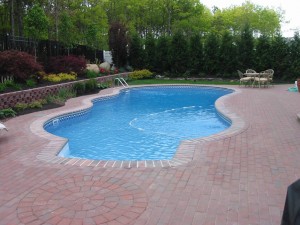 Pools add luxury and value to any lifestyle – and the vinyl pool has risen to today's design challenges, offering a smarter building solution. Whether you're looking for vinyl pool liner replacement contractors or a completely new pool installation from the ground up, Kazdin Pools & Spas have the expertise you need.
Custom Pool Liners Make All the Difference
We know you don't want just any pool – you want an escape you can look forward to enjoying for years to come. Homeowners choose vinyl pool construction for the ease of maintenance, durability, soft feel of the surface. And because vinyl comes in nearly limitless shapes and sizes, it makes the perfect choice for a new pool liner when the times comes to replace your existing liner.
Kazdin Pool & Spas does not offer your typical 'cookie-cutter' vinyl pool. Our custom pool liners are tailored to your needs and built with the most durable galvanized steel and a lifetime guarantee. And because the manufacturer is just as important as the materials, we are proud to partner with Cardinal Systems Steel Wall Pools, the most technologically sophisticated manufacturer of steel wall in-ground pools in the United States.
With our experience and technological advancements, we can design and build a vinyl pool that competes with gunite pools – at even more affordable prices. And when you choose us as your vinyl pool liner replacement contractors, you're getting the most cutting-edge custom pool liners in the industry. Our experts will work with you one-on-one to build an outdoor retreat that gives you years of relaxation and comfort. Let your imagination run wild and enjoy the elegant, enjoyable swimming pool of your dreams.
Call us anytime at 631.283.4884 to see the possibilities.
For new sales of swimming pools or spas, equipment requests, service requests, and repairs. Please contact our customer service team at Customerservice@kazdin.com.
If returning a contract or estimate please send to Office@kazdin.com.