Long Island Pool Builders Can Transform Your Environment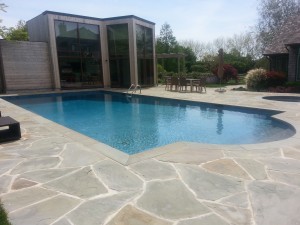 It takes an expert with an eye to turn your dream pool into reality. It requires precise planning, artistic vision and the expertise of a custom pool builder. The Long Island pool installation team at Kazdin Pools & Spa specializes in the results you're looking to achieve and has a keen eye for design to expertly plan your swimming pool construction.
Whether it's gunite or vinyl, we build all our pools with the same quality, care and attention to detail that have won us over 75 design awards. Being in business over a third of a century has allowed us to learn a great deal about Long Island pool installation techniques. With an emphasis on green technology and energy conservation, we build only the most state-of-the art, energy-efficient pools that are durable and maintenance free. And we never cut corners. If there's a better-quality product, we use it in our swimming pool construction. Also, being one of the larger service companies out there allows us to get firsthand experience with every product available. Along with the pools and spas, Kazdin is able to build your decks and patios, and coordinate the electrical and fencing needs of your project. This affords you a coordinated project with the supervision of one experienced firm.
You deserve a one-of-a-kind creation from the industry's most celebrated custom pool builder. Count on personal attention, award-winning design and expertly crafted Long Island pool installation. Make your dream a reality today.
For a custom pool builder in Long Island, call us at 631-283-4884.
For new sales of swimming pools or spas, equipment requests, service requests, and repairs. Please contact our customer service team at Customerservice@kazdin.com.
If returning a contract or estimate please send to Office@kazdin.com.