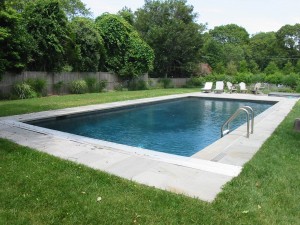 Weekly Pool Service
No matter how well anything is taken care of, eventually it's going to wear. Your pool or spa is no exception. There's going to come a day when it's time to search "pool service near me," and when you do, you'll find Kazdin Pools & Spas ready to help on Long Island.
Experience the Power of Our Pool Cleaning Service
When it comes to weekly pool service – whether it's a cleaning, a liner change or a complete overhaul, Kazdin does it all. All our pool cleaning service technicians are registered and "Tech I" or "Tech II" certified, with the benefit of continuing education sponsored by the Association of Pool and Spa Professionals, our own nationwide trade group. Together, we have become one of the most trusted local swimming pool maintenance companies on Long Island – and we want to show you why.
What to Expect from Our Weekly Pool Service
There's nothing quite like an invigorating swim in your own pool, but chances are, you could do without the maintenance. Leave that to us. Kazdin's pool cleaning service includes:
• Vacuuming
• Skimming
• Water Testing
• Chemical Balancing
• Pump and Filter Checks
• Deck and Coping Cleaning
It's all a part of our commitment to client service, which has driven our 35-year success as one of the top local swimming pool maintenance companies in the industry.
Need help opening or closing your pool? In addition to our pool cleaning service, we can take over this difficult and time-consuming task for you. We do it all upon opening – from the removal and washing of the cover to water tests and treatments to a full system check to get your pool crystal clear and sparkling. At the end of the season, we'll winterize your pool, install the cover and make sure that everything's ready to perform next year. Plus, as a factory-authorized repair center for the products we install, we always service what we sell.
If you're looking for "pool service near me" on Long Island, call Kazdin today at 631-283-4884.
For new sales of swimming pools or spas, equipment requests, service requests, and repairs. Please contact our customer service team at Customerservice@kazdin.com.
If returning a contract or estimate please send to Office@kazdin.com.