Unparalleled Pool Repair on Long Island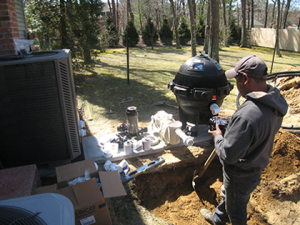 Have you looked forward to enjoying your pool all winter long, only to discover when you take off the cover that you need pool repair service? Whether it's a minor pool leak repair, pool heater repair or other equipment issue, it's no problem for Kazdin's pool repair Long Island experts.
Inground Pool Plumbing Repair
Over the years, the plumbing system on your pool or spa may start deteriorating. Our certified repair technicians are trained to repair major and minor plumbing problems. Whether your problem is finding a pesky pool leak repair location, a broken pump or filter, or even a broken pool heater, our experts can help you get your pool back to its old self.
Vinyl Inground Pools Repair Service
Vinyl Liner Replacement
Now is the best time to get an estimate on a new vinyl liner. Kazdin can refit all brands, shapes and sizes. With more than 40 years of specialization in vinyl inground pool repair service, we're the company to call for liner replacement.
Coping Changes
Is your pool's coping edge cracked, loose or hollow underneath? Let Kazdin's pool repair Long Island specialists repair or replace it.

Gunite and Cement Pool Repair Service
Coping – Tile
If your pool's coping edge is cracked, coming loose or hollow underneath, let Kazdin show you how we can repair or replace it. Is your tile cracking? Is the grout coming out or does the tile sound hollow? Is your pool or spa peeling? Many tile problems actually result in water loss. Let Kazdin help with your pool leak repair.
For further information about Kazdin's Long Island pool repair service, call us at 631.283.4884.
For new sales of swimming pools or spas, equipment requests, service requests, and repairs. Please contact our customer service team at Customerservice@kazdin.com.
If returning a contract or estimate please send to Office@kazdin.com.