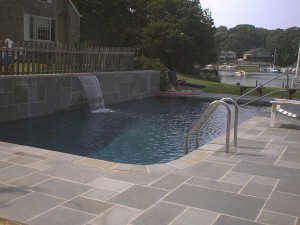 Tired of looking at the pool deck or patio after 25 years? Wish you could modernize the patio around the pool? Whether it's a completely new design or a simple renovation, Kazdin can completely transform your swimming pool experience.
Pool Area Design on Long Island
Any deck, any patio, any size. Our pool area design experts can add a beautiful maintenance-free deck to your new or existing home, or even refinish your existing deck with a fresh, new look. Just imagine what your swimming pool would look like with a new installation of any of the following styles we offer:
• Stone – Bluestone/Crab Orchard/Others
• Composite – Trex
• Wood – Tight-knot cedar
• Luxury wood – Mahogany
Need to reset or extend the patio around the pool for a much larger, functional space? We've got you covered. Our design and construction team can pull up your existing patio that's lying on dirt and install a beautiful concreate base that keeps sand away.
And it doesn't end there. We can install hundreds of style combinations for railings, and reset railing and ladder cups and sockets as well. Anything you need to make your space more functional and attractive is yours.
Take Your Swimming Pool Experience to Another Level
You deserve a one-of-a-kind pool area design from the industry's most respected builders of custom pools. Call Kazdin Pools & Spas today at 631-283-4884 to talk about the possibilities with your new installation.