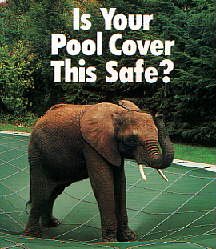 If you've ever closed your own pool, you know the back-breaking work involved with pool covers. Unfolding the cover. Filling and placing the heavy water bags. And when you're finished, your winter pool covers always tend to sag, look sloppy, end up with leaking water bags. After a couple of weeks, the thing just looks like a swamp.
Pool Covers by Loop Loc
Kazdin Pools & Spas has the perfect solution. We offer Loop Loc pool covers, including the safety ultra-mesh cover or the solid cover with a mesh insert, ensuring you have the best pool safety equipment in the industry.
Kazdin Winter Pool Covers Keep Your Yard Dry and Safe
Our Loop Loc covers are made of lightweight, woven fibers that keep debris out and still allow your pool to breathe. Plus, these winter pool covers are so strong, an elephant could stand on it with no impact at all, so you won't have to worry about the safety of your family members or pets.
Using brass anchor fittings instead of water bags to secure them to your pool deck, our pool covers are easy to put on and even easier to take off. It won't be one of the things you dread at the end of every season!
If you're interested in learning more about our Loop Loc pool covers, or just getting a bit more educated on pool safety equipment in general, call Kazdin today at 631.283.4884.
For new sales of swimming pools or spas, equipment requests, service requests, and repairs. Please contact our customer service team at Customerservice@kazdin.com.
If returning a contract or estimate please send to Office@kazdin.com.