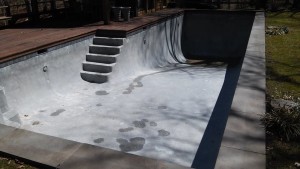 What's more enjoyable on a hot day than being able to step outside your house and into the cool water of a beautiful swimming pool? If you'd like to breathe some new life into your pool or spa area, Kazdin Pool and Spas is known as one of the best pool companies on Long Island to work with.
Top Swimming Pool Renovation Companies on Long Island
We understand how much work goes into owning a pool. That's why we provide the Long Island area with unparalleled pool renovations services. Whether you're looking for a basic pool resurfacing or a complete pool remodeling, you can count on more than 40 years of experience go into every project we take on.
Innovative Pool Resurfacing
If your concrete pool is showing its age, it's probably time for pool resurfacing services. Say good-bye to cracks and crevices that promote algae growth. Brighten up your pool with a refreshing finish–Marbledusting by Kazdin. As one of the most renowned pool companies on Long Island, we'll use this most innovative technology to replace the bumpy, rough feel with a smooth new finish in a color that suits your unique taste.
Comprehensive Pool Remodeling
When your existing swimming pool needs more than basic service or repair, you need seasoned design, pool construction & technology experts to give it a total makeover. Let Kazdin's experts in pool remodeling and pool renovation make your ideas a reality. Breathing new life into your pool can be as simple as adding a new design feature or as complex as changing the shape or depth of your pool. You're only limited by your imagination!
Hardscape Pool Renovations
Whether your hardscape is made of wood, concrete, brick, slate or stone, Kazdin is one of Long Island's best swimming pool renovation companies that can make it look like new again. We know that hardscapes are the best way to extend the use of your pool and create an inviting gathering space for your friends and family. That's why Kazdin's pool renovations team will help you design a unique hardscape to match your lifestyle, incorporating and complementing the materials you've used for your pool, decks and landscaping.
Pumps and Filters
When your pump and filter are acting sluggish, call Kazdin. Whether it's routine maintenance, overhaul or time for total replacement, you can be sure you're getting the best equipment and pool renovations services.
Ready to experience one of the best pool companies on Long Island? Contact Kazdin Pools and Spas today at 631.283.4884 for a free consultation on pool resurfacing, pool remodeling or pool renovations. 
For new sales of swimming pools or spas, equipment requests, service requests, and repairs. Please contact our customer service team at Customerservice@kazdin.com.
If returning a contract or estimate please send to Office@kazdin.com.