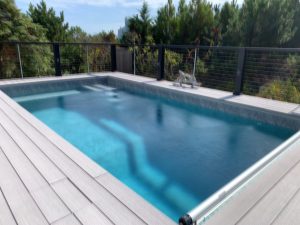 Are you happy with your existing deck? Is it looking a bit worn? If the foundation is still in good shape, it may be time to consider deck resurfacing options. As the Hampton-area experts in deck refinishing, Kazdin can help you keep your existing deck for years to come.
Restore a Deck with Kazdin
If you're satisfied with the general layout of your deck, there's no reason to tear it down completely. Especially if it only needs aesthetic or even structural updates. Instead, you can restore a deck with Kazdin and enjoy your current deck with a fresh, new look. And best of all, our deck refinishing services are available year-round!
We can assess the condition of your deck and help you choose the right material for your specific needs. Whether you want your pool deck to look brand-new or prefer a dramatic new appearance with slate, tile, wood or a colorful coating, your deck resurfacing options are virtually endless.
Call Us to Today Discuss Deck Refinishing
You've invested a lot in your pool, and we know you want it to always looks its best. If a splintered, cracked, stained and aging deck is detracting from your otherwise beautiful poolscape, let's talk. Our experts can restore a deck anytime of year, so don't hesitate to contact us today at 631.283.4884 for a consultation.