Caldera Spas
Immerse yourself in relaxation
When you immerse yourself in Caldera spas, you can instantly feel the world float away. The warm water envelops you, and you emerge feeling restored, centered, and free from stress. Kazdin, one of the premier Caldera spa dealers in New York, invites you to experience this transformation by browsing our selection of these exceptional portable spas.
Which Portable Hot Tub Suits Your Life?
Each Caldera portable hot tub is designed for comfort and performance. Every contour, meticulously considered. Every curve, designed to work precisely with your body. Every feature, meant to create a sense of peace and tranquility. Kazdin offers Caldera spas because of their range of beautiful color choices, contemporary cabinet designs, and ultimate performance. In essence, no matter which you choose, it's the perfect hot tub: yours.
Finance options are available. Please call us for more information.
Available Now at Kazdin Pools: Caldera Spa Dealers
LIMITED STOCK! ORDER YOURS TODAY
Portable Spas, Use Year Round, Great for Wellness

Utopia Series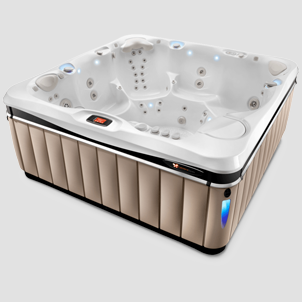 Geneva
The Geneva® is a luxury portable hot tub featuring a spacious interior that seats six adults. The comfortable Ultra Massage® lounge and foot massage jets feel amazing.
SEATING CAPACITY – 6 Adults
7'5″ x 7'5″ x 38″
55 Jets
FreshWater® Salt System
Paradise Series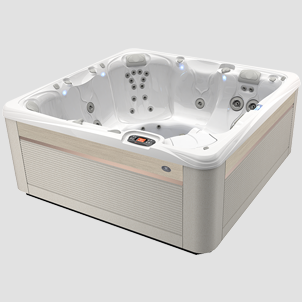 Seychelles
The Seychelles™ is a mid-sized lounge spa for 6 that boasts a spacious interior, versatile seating and an ample footwell featuring the unique Euphoria® Jet massage and Sole Soothers®. With 43 hydrotherapy jets, this dual pump spa offers a powerful hydrotherapy experience.
SEATING CAPACITY – 6 Adults
7′ x 7′ x 36″
43 Jets
FreshWater® Salt System
Vacanza Series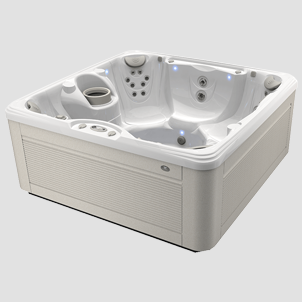 Vanto
A non-lounge hot tub, the Vanto® model features the same stylish design and powerful spa jetting system found on the popular-selling hot tub Vacanza® Series.
SEATING CAPACITY – 7
Adults 7′ x 7′ x 36″
35 Jets