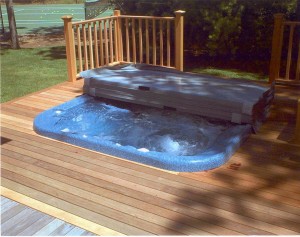 Looking for hot tub options in the New York area? Kazdin has you covered. As an authorized dealer of Marquis spas, we offer the very best in hot tub experiences. Our team is committed to setting you up with the ultimate spa that promises pure relaxation, advanced hydrotherapy, and powerful performance.
What Are the Best Hot Tubs at Kazdin?
Whether you want all the special features available or prefer a more simplistic soak, with Kazdin, you're sure to find the best hot tubs to fit your individual lifestyle. We carry the hottest models and can custom design an experience you'll never forget. Check out some of our most popular models.
The Reward™
One of the best Marquis hot tubs, the Reward is the ultimate combination of comfort, style, therapy, and power. The contoured full-body lounge fits up to six people, providing an intense massage from your shoulders to your legs and even your feet. Don't you want to be rewarded for your hard work? You deserve it! With dual therapy seats, dual geyser jets, and a lounge, you'll enjoy a full-body whirlpool massage that makes you more relaxed than ever.
The Epic™
Life can be a great journey, and the Marquis Epic was created with your needs and comfort in mind. One of the best hot tub options by Marquis the Epic™ this spa offers an unforgettable hydrotherapy experience. Boasting three High Output Therapy (H.O.T.) Zones – lumbar, shoulder and pillar, this spa includes a dual geyser jet system that is beyond belief! The Epic's open, multilevel seating for six, features an exclusive Adirondack chair with powerful leg and feet jets. A deep soak seat puts you as low as you can go and offers relief to your neck straight down the spine.
If you're interested in seeing the best hot tubs in person or just getting a bit more educated on spas, hydrotherapy, or whirlpool massage in general, call Kazdin today at 631.283.4884.
For new sales of swimming pools or spas, equipment requests, service requests, and repairs, please contact our customer service team at customerservice@kazdin.com.
If returning a contract or estimate, please send to office@kazdin.com.