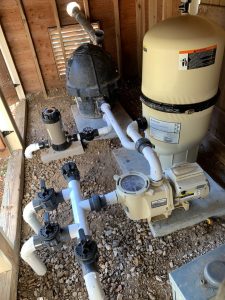 Quality from the Start
Inground pool construction starts with precise planning, an artistic vision and the expertise of a custom pool builder. The inground pool installation team at Kazdin Pools & Spas is renowned for building the highest-quality pools because we know what to look for before breaking ground.
Custom Quality Pools Require Knowledge and an Eye for Detail
To get in the results you're looking to achieve in custom quality pools, you need professionals with a keen eye for design to expertly plan your inground pool construction. Whether it's gunite or vinyl, we build all our pools with the same quality, care and attention to detail that have won us over 75 design awards.
Our experts will survey your property, ensuring your pool is laid out out with sufficient space so we don't have to work in a cramped, tight space during construction (and during service down the road). We also use only the best swimming pool equipment, sparking-clean plumbing and a superb system layout so that your pool always runs effectively and neatly.
With an emphasis on energy conservation and green technology, we build only the most state-of-the art, energy-efficient pools that are durable and maintenance free. And we never cut corners. If there's a better-quality product, we use it in our inground pool construction. Also, being one of the larger inground pool installation and service companies on Long Island, we become experts with every product available.
Let's Plan Your Inground Pool Installation
You deserve a one-of-a-kind creation from the industry's most respected builders of custom quality pools. Call us today at 631-283-4884 to talk about the possibilities with your inground pool construction.